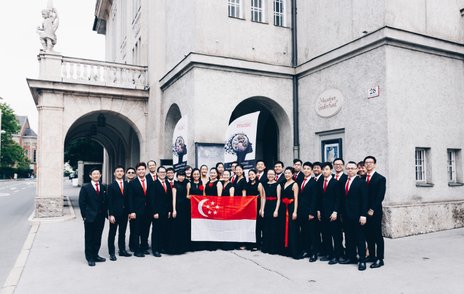 EUROPE TOUR 2019
SLOVAKIA & SALZBERG
At the 12th International Bratislava Choir Festival, Raffles Singers was awarded the Gold Diploma for the Musica Sacra and Mixed Adult categories. The choir also won the Grand Prix (Grand Prize) for their outstanding performance, in addition to a Special Prize for Dramaturgy.
At the 2nd Salzburg International Choral Celebration and Competition, Raffles Singers competed in the Musica Sacra and Mixed Adult categories and attained category winners with two Gold Diplomas in both categories. For their excellent performance, Raffles Singers was then shortlisted to perform in the Grand Prix where they emerged overall Grand Prix winner.
RAFFLES SINGERS
PRESENTS: AYIBOBO! 2019
Our concert for this season, Raffles Singers Presents: Ayibobo 2019 took place on the 26th of May, 2019! Thank you to all who came to support us in a night of music making. For others who missed us, and certainly for those who are keen to watch us again, do look out for news on our Facebook and Instagram!
3rd International Copernicus Choir Festival and Competition, Torún, Poland
Grand Prix Winner, Gold Diploma, Category Champion
17th International
Festival of Advent and Christmas Music,
Prague, Czech Republic
34th International Festival of Songs,
Olomouc, Czech Republic
In conjunction with the 9th Orientale Concentus International Choral Festival, Singapore
Demonstration choir, Conducting Seminar
by Dr. Brady Allred
Beethoven's Symphony 9,
Wagner's Die Meistersinger von Nürnberg,
Esenvalds' Lakes Awake at Dawn
Choral Collaboration with the Orchestra of the Music Makers and the Queensland Festival Chorus (Australia) Esplanade Concert Hall, Singapore
11th World Symposium on Choral Music
Barcelona, Spain
Invited Choir for Choral Presentations
Invited Choir for Choral Presentations
Gold Diploma (Perfect Score)
Category Champion