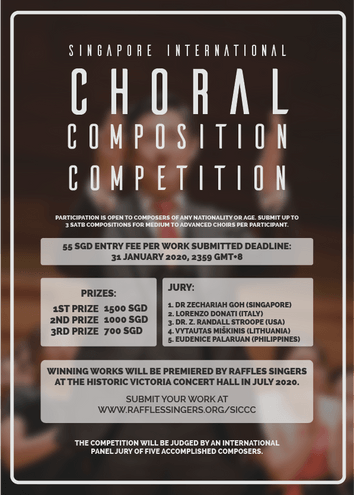 Raffles Singers presents the inaugural Singapore International Choral Composition Competition 2020 (SICCC), the chief aim of which is to promote the creation and performance of new and innovative choral repertoire in Singapore.
Continue reading to find out more about submission criteria and terms & conditions. Please read the terms carefully before submission.
SINGAPORE INTERNATIONAL CHORAL COMPOSITION COMPETITION
COMPETITION RESULTS:
SINGAPORE INTERNATIONAL CHORAL COMPETITION 2020
After careful judging by our esteemed panel of jury,
Raffles Singers is pleased to announce the winners of the SICCC 2020.
1st Place: Babalon by Gerson Batista (Portugal)
2nd Place: Ave Maria by Tamás Barnabás Bánó (Hungary)
3rd Place: Reflections on Dies Irae by Jonathan Domingo (Philippines)
Artistic Comments from Dr Zechariah Goh (Singapore):
On behalf of the panel of esteemed judges Lorenzo Donati (Italy), Vytautas Miskinis (Lithuania), Eudenice Palaruan (Philippines), and Dr. Z. Randall Stroope (USA). I would like to express my heartfelt gratitude to the 62 entries from the inaugural Singapore International Choral Composition Competition (SICCC)!
We are very pleased to read through all these carefully crafted choral creations by so many talented composers from all around the globe. The three winning works show very good understanding of choral writing, imaginations and originality. We are also deeply moved by the composers' sensitivity to text setting. We look forward to hearing these pieces in the near future.
Congratulations to all of you!
Congratulations to the winners, and thank you to all the participants.
We hope that your passion for choral music will continue ever so fervently.